Meet Our Founders
Carol LeValley & Josh Harris started Rustic Bakery on a whim in 2005. The couple found their passion for baking in a simple sourdough flatbread cracker that Carol would whip up for friends. They stopped at the San Francisco Ferry Building outlet of Cowgirl Creamery, and mentioned to owners Sue Conley and Peggy Smith that the cheeses deserved artisan crackers. The Cowgirls bit, literally, into a sourdough flatbread and immediately placed an order for 50 cases.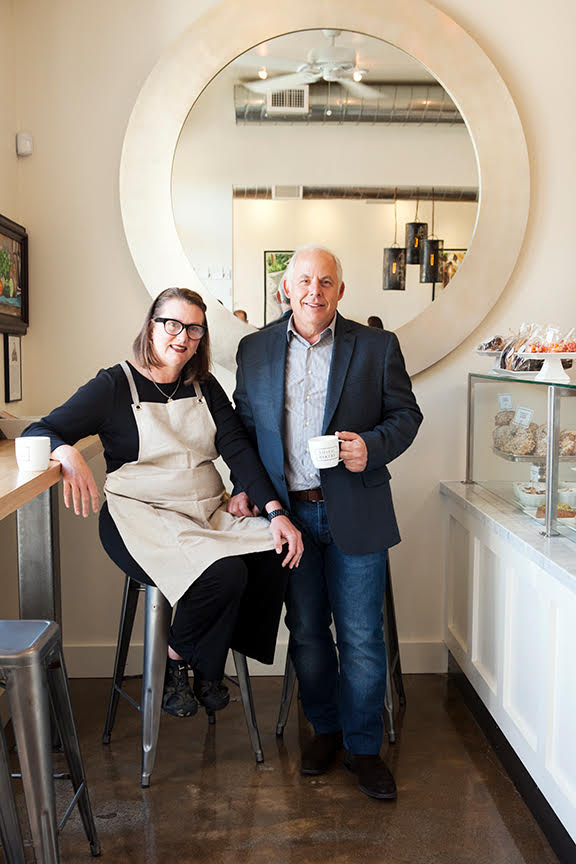 So, the bakers scrambled to find commercial kitchen space in their hometown of Novato, which they outgrew in the first week, struggling to keep up with more orders while working with a rolling pin and standard convection oven. It was an around-the-clock effort. Josh would mix all of the dough, and Carol would shape and bake the flatbreads.
As luck would have it, there was a wine bar in Larkspur with a fully outfitted, but unused bakery in the back. Carol and Josh signed a lease, and the crowds converged the same day. Two days later they purchased the entire space, turning the wine bar into a café serving coffee and croissants along side the crackers.
In January 2006, Rustic Bakery showed their wares at the annual Fancy Food Show in San Francisco, where industry buyers discovered the crackers and suddenly every cheese place in America wanted them.
As far as we know, it's the only handmade sourdough flatbread anywhere. A cracker is simply flour, water, and salt. Our crackers rise slowly, and ferment like bread. The flavors specifically complement cheese. Ingredients remain local and organic when possible, as well as globally sourced.
The business has grown to four cafés and a wholesale division with 28 products. Carol and Josh can still remember sitting at the kitchen table, and seeing their first tray of crackers come out of the oven. It was such a thrill.